Have you ever felt helpless and very angry when your converter makes you wait for a very long time when you convert audio or video files? Compared with typical free multimedia converter tools, a professional video converter that is GPU-accelerated can take less time when converting the same files. These are known as CUDA video converters.
So in today's discussion, we will give you an excellent GPU media converter you can use to convert your media files quickly along with a step-by-step guide on how you can do this. But before that, let us take a look at what NVIDIA CUDA is in the next section.
Contents GuidePart 1. What is NVIDIA CUDA?Part 2. Most Recommended CUDA Video ConverterPart 3. Other Top 4 CUDA Video ConvertersPart 4. Conclusion
Part 1. What is NVIDIA CUDA?
NVIDIA CUDA is a technology used to speed up the conversion speed of various media files. Compute Unified Device Architecture (CUDA) is an architecture for parallel computing which can be accessed by software developers using various industry programming languages. It is developed by NVIDIA and uses your computer's GPU to perform an accelerated conversion of various video formats. This consequently releases CPU usage. In fact, CUDA/NVENC and QSC both are related to GPU acceleration.
Tip: High-speed conversion using NVIDIA's CUDA and GeForce GPUs.
GPU and CPU acceleration using the NVIDIA CUDA technology is the fastest and best way of converting and compressing a wide variety of media files having more than 1GB sizes. Aside from NVENC/NVIDIA CUDA, GPU and CPU acceleration can also take advantage of AMD and Intel QSV. You will find hardware acceleration crucial in video processing most especially 4k videos.
So with the help of NVIDIA CUDA's computing technology, video conversion entered a new age. DumpMedia Video Converter is one of the best tools optimized by NVIDIA CUDA to accelerate media conversion speed. This allows the conversion of your files in minutes only. DumpMedia automatically detects your CUDA graphics card given that your computer uses the NVIDIA CUDA technology.
By enabling GPU acceleration, your video conversion will be handled with supercomputing using NVIDIA's GPU instead of using the CPU of your computer. This makes your computer run 6x faster during the conversion speed.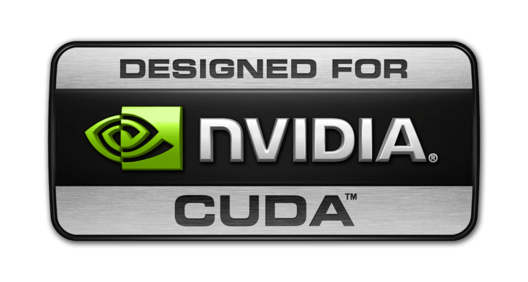 In the next part, we will introduce the most recommended CUDA video converter. You should keep reading.
Part 2. Most Recommended CUDA Video Converter
We recommend using DumpMedia Video Converter as a tool for converting various multimedia files into other formats at a lightning-fast speed. DumpMedia is a powerful all-in-one audio and video converter, downloader, editor, and player. It can convert your multimedia files into many formats with minimum quality loss. Enjoy the convenience of a friendly interface equipped with a lot of features to meet all of your video needs.
Features of DumpMedia Video Converter
Enhancement of video quality. Fix dark, overexposed, and shaky videos by upscaling from SD to HD video resolution and adjusting the brightness and contrast of your videos.
Video editing. Clip, crop, rotate and add watermarks to your videos. Aside from the brightness and contrast, you can also adjust the hue, saturation, and volume of your videos. You can even combine multiple videos into one single file and preview the results in real-time.
Video and audio conversion. Convert your audio and video files to your desired high-quality formats to eliminate playback incompatibility issues.
Support for various devices. DumpMedia supports many devices such as iPod, iPad, iPhone, Samsung Galaxy, Blackberry, Nokia Lumia, Google Nexus, and others.
Supports video conversion to and from different resolutions. Convert your videos to and from SD, HD, FHD, and UHD resolutions. You can also rip your homemade DVDs to MP4.
Ultra-high video conversion speed. Convert your video files 6x faster than normal without quality loss and re-compression.
For more information about DumpMedia and its supported formats and devices, feel free to check out this page link. Now, to convert your multimedia files to your desired formats, download the software first and follow the steps below:
Step 1: Download the DumpMedia application
Step 2: Launch the DumpMedia application
Step 3: Add your video file to the application
Step 4: Choose your desired output format and destination folder
Step 5: Start the conversion process
Below are the more detailed steps for converting your media files to your desired format using DumpMedia and NVIDIA CUDA's computing power.
Download the DumpMedia Application
Before you can start using the application, of course you need to download the software first. The good news is, DumpMedia has a free Mac version for you to try the software first before you decide on whether it is the right tool for you or not but we assure you that you will not be disappointed with its features.
Launch the DumpMedia Application
After downloading the DumpMedia installer, launch the application by following the steps below for MacOS operating systems.
Click on the Launchpad icon in your computer's Dock. The launchpad icon is a gray circle with a darker gray rocket at the center.
Type DumpMedia on the Search bar at the topmost part
Hit the Return button on your keyboard to launch the application.
Add Your Video File to the Application
Click the Add Multiple Videos or Audios button to import your files or you can drag-and-drop them directly into the main interface.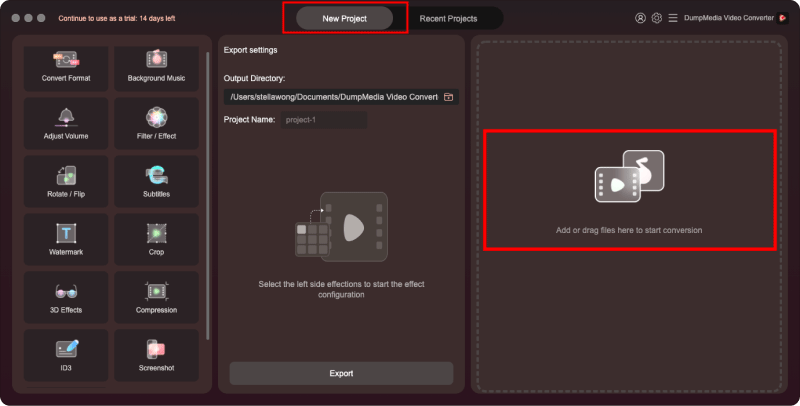 Choose Your Desired Output Format and Destination Folder
Look for the Convert Format on the interface. Select your desired output format. At the bottom of the interface, click on the Save button and browse your computer to the desired destination folder of the converted files.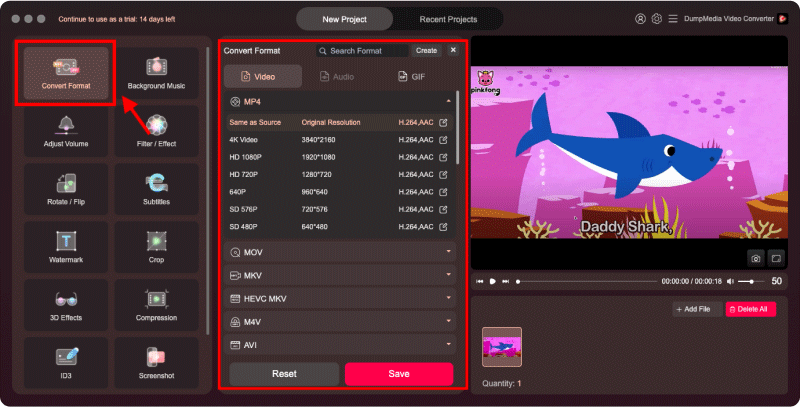 Start the Conversion Process
Click the Convert button to start the conversion of your media file. Wait for the conversion to complete.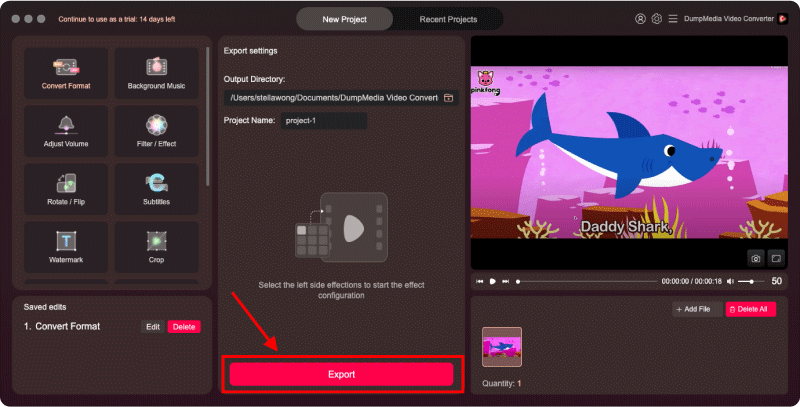 Part 3. Other Top 4 CUDA Video Converters
#1 Free CUDA Video Converter
This is among the best professional video converters which can convert the majority of video formats such as AVI, MOV, 3GP, MP4, FLV, and MPEG. It can even convert HD videos easily. It features higher conversion speeds and a significant increase in performance thanks to the CUDA technology.
This GPU-optimized converter does not only convert movies using CUDA but is also a powerful tool in extracting audio from music videos and movies. It has available output quality presets you can choose from to suit your requirements and supports over 350 video formats and devices. With Free CUDA Video Converter, you can convert your videos in only three steps.
#2 VideoSolo Video Converter Ultimate
This video converter software uses CUDA GPU acceleration in full advantage of converting your videos under a fast speed. It can automatically find the multi-core processor of your computer and makes the most out of your PC's spare power along with an increase in conversion speed.
Among the features of VideoSolo Video Converter Ultimate are the following:
Conversion of audio and video files to your desired high-quality formats.
Output presets that support the majority of popular devices.
Download videos from Vimeo, Dailymotion, YouTube, and others.
Editing features like adding watermark, rotate, crop, clip, etc.
#3 Any Video Converter Ultimate
This tool is now optimized by NVIDIA's CUDA Technology to significantly accelerate the conversion speed and enhance the quality of the output videos. Any Video Converter Ultimate can convert videos and DVDs much faster compared to its previous versions. Through this, it helps its users save more energy and time.
Among the supported video file formats of Any Video Converter Ultimate are Xvid, DivX, AVI, H.264, 3GP, MP4, MKV, RM, WMV, MOV, FLV, TS, TOD, MOD, M2TS, MTS, WebM, and VP8. Moreover, it can also convert audio files such as OGG, WMA, WAV, AAC, MP3, and others. By utilizing the latest NVIDIA CUDA technology, this tool allows you to do the following in a few minutes only:
Convert videos and DVDs movies
Extract audio from music videos and other videos
#4 CUDA Soft's Free CUDA Video Converter
With this free CUDA-powered video converter tool, you can convert your audio and video files in no time. You can convert multiple files simultaneously to greatly reduce the conversion time. It supports the conversion of High-Definition videos like H.264, AVCHD videos, HD WMV, MKV, MPEG-2, and MPEG-4 TS videos to SD video formats.
Aside from HD videos, CUDA Soft's Free CUDA Video Converter also supports the conversion of common video formats such as MPEG, AVI, WMV, MP4, DivX, H.264/AVC, RM, MKV, MOV, FLV, 3GP, Xvid, and others. You can also create slideshows using your own photos and add transition effects to personalize your videos. Moreover, you can capture movie images in batches and choose from diverse ripping formats using this tool to satisfy various multimedia devices.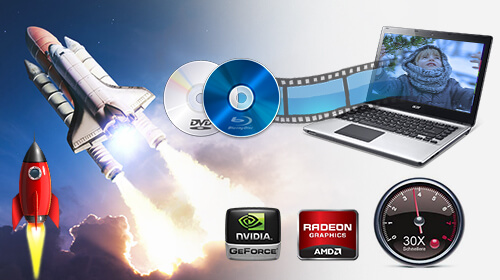 Part 4. Conclusion
As you have learned in today's discussion, traditional video converters use a lot of your computer's CPU while CUDA video converters can use your GPU to accelerate the conversion process. Through this, it also shares your CPU's burdens which means that the conversion process is performed using both GPU and CPU acceleration simultaneously.
With DumpMedia Video Converter, you can achieve a high-speed video conversion as this tool also uses NVIDIA CUDA to perform the conversion process. By the way, you can check out our other blogs for more guides on other software issues and how to solve them here.