Have you ever used a Pandora downloader APK to enjoy all of your favorite Pandora songs? If you use an APK, you are not required to pay money for Pandora's monthly membership.
In this article, we will introduce the Pandora Downloader APK, enabling you to download the entirety of your favorite songs from the Pandora platform quickly.
Contents Guide Part 1. What's Pandora Downloader APK?Part 2. How to Get Pandora Downloader APKPart 3. Best Way to Enjoy Pandora MusicPart 4. Conclusion:
Part 1. What's Pandora Downloader APK?
Pandora is a well-known online music platform that allows users to create customized radio stations based on their preferred genres and artists. APK is a file format that is used to distribute and install mobile applications on Android-based devices such as smartphones and tablets.
Whenever you obtain the APK file for the Pandora downloader APK, you can install the software on your Android device directly, rather than going via the Google Play Store first. This may be helpful for users who are seeking a version of the program that is not accessible on the official app store as well as for users who do not have access to the Google Play Store.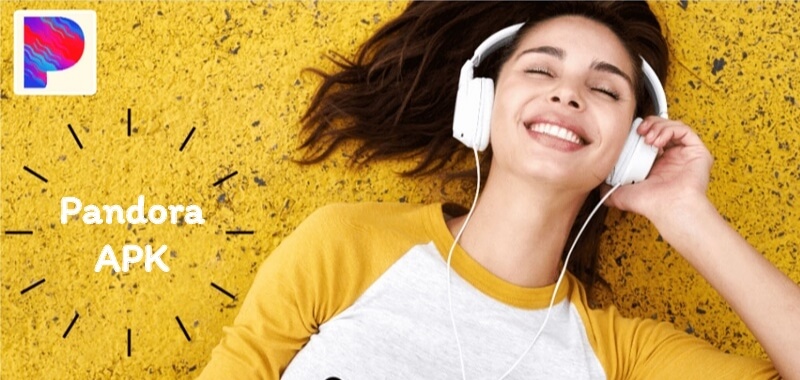 However, downloading and installing APK files directly from unknown sources can be quite risky, as it raises the possibility that the files contain malicious software that could damage your device in its entirety. Because of this, it is essential to only download the APK from sources that can be trusted.
Part 2. How to Get Pandora Downloader APK
The following is a step-by-step method that will walk you through the process of downloading and installing the Pandora downloader APK on an Android device, which will allow you to get such a Pandora program APK:
Enable sources that are not known: To enable the "Unknown sources" option on your Android smartphone, go to the Settings menu, then choose the Security option. Installing applications from locations other than the Google Play Store will now be possible thanks to this change.
Download the official Pandora Android application (APK): Locate a dependable resource online and use it to get the Pandora APK file.
Download and install the APKs of the applications now: Open the APK file after it has finished downloading, and then proceed to follow the instructions that appear on the screen to install the program on your smartphone.
Start the application: Once the application has been successfully installed, you may start it by clicking on its icon in the app drawer.
Register an account: You will need to create an account with Pandora in order to enjoy the customized radio stations and other services that are available on the platform. Either your email address or your Facebook account may be used to join up for this service.
Begin using Pandora Once you have established an account with Pandora, you are able to begin utilizing the service to stream music and build customized radio stations.
Note: Please keep in mind that downloading APK files from unknown sources may be dangerous. Because of this, it is essential to ensure that you only download the Pandora APK from a reliable source.
Part 3. Best Way to Enjoy Pandora Music
If you desire access to a range of music of excellent quality at a more reasonable fee, you might think about the DumpMedia Pandora Music Converter. It enables you to acquire songs from Pandora Downloader APK and store something in your system,
it offers it simple to generate copies of such songs that you like alternatively than merely listen to them whenever you want. In addition to this, the program offers quick conversion rates, which makes it possible for you to try to collect the music that you choose, and it preserves ID3 tags as well as metadata, which guarantees that your collections are constantly structured.
In order to get the software, visit the website and download the version that is appropriate for your computer's operating system (Windows and perhaps such Mac).
To install the utility, just adhere to the on-screen directions that will display.
After you have confirmed that the installation was successful, you may now begin using the program.
Import songs from the Pandora Music service into the software by using a method that includes dragging and dropping.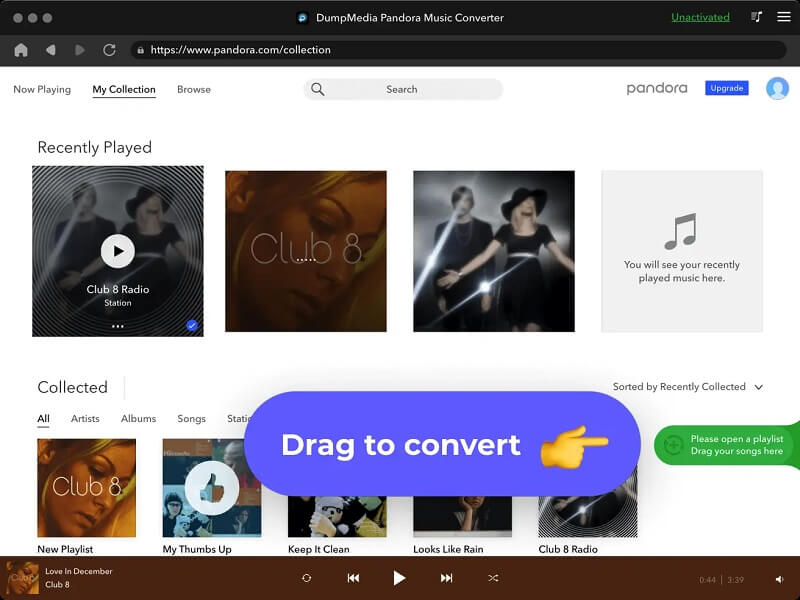 5.For the songs that will be converted, choose the output format that you want to use, such as MP3 in this illustration.
6. On your computer, either create a new directory to keep the converted files in or choose an existing directory from your computer to serve as the destination for the converted files.
7. Select the "Convert" button located on this toolbar to begin the process of converting.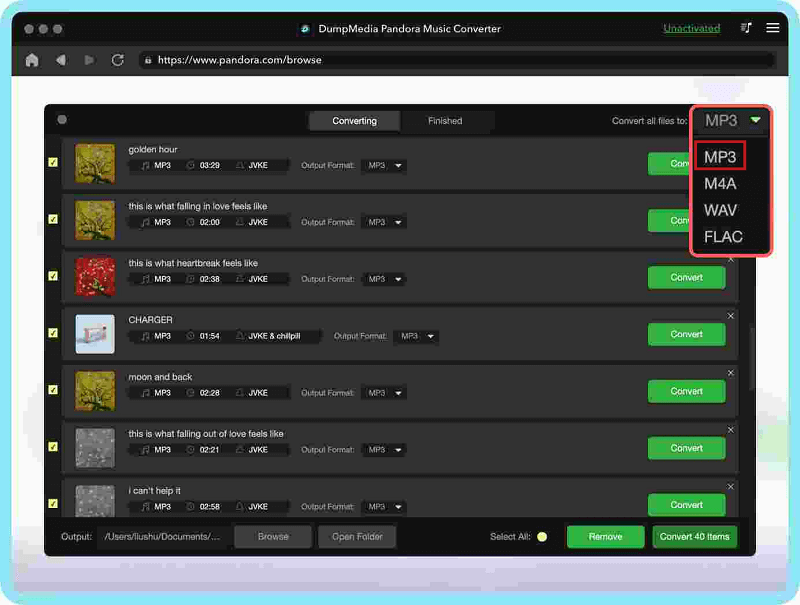 When you use DumpMedia's Pandora Music Converter, you will be able to listen to the music that you like from Pandora in a format that can be customized to meet your unique needs and preferences.
Part 4. Conclusion:
In Conclusion, Pandora downloader APK distribution then installs the Pandora software. Those without Google Play Store access may download and set up such APK. Thus, if you're not comfortable with this APK, you may utilize DumpMedia Pandora Music Converter, which is always accessible on its main website. Get it now. Good day!