Podcasts, live radio, and music streaming are all excellent options on Deezer. It is still a desirable service due to the outstanding variety of lyrics, international music, MP3 compatibility, and other features. A lot of people want to know how to get Deezer Premium for free on Android devices. That will be the focus of this article.
Contents Guide Part 1. How To Get Deezer Premium For Free On Android [Official Way]Part 2. How to Get to Deezer Premium for Free on Android [Recommended Way]Part 3. Using DumpMedia DeezPlusPart 4. To Sum It All Up
Part 1. How To Get Deezer Premium For Free On Android [Official Way]
Deezer is a seriously amazing way to listen to the tracks you love. Plus, you can add your MP3 files to the platform, so you can listen to all your music in a single app. That's how great it is.
Because Deezer is a popular music streaming service, you may want to know how to get Deezer Premium for free on Android. Here, we will discuss how to get a free trial. In addition, we will give you a better alternative that will allow you to grab the tracks you love on Deezer so you can play them on any Android or mobile device.
You can see if you qualify for the free trial by visiting Deezer's Offers Page. Deezer claims that you won't be eligible for the free trial of Deezer Premium if you signed up through mobile network providers and other promotions.
If you choose the said music streaming service's free trial, you can use it to access Deezer for free offline listening even on Android devices. First-time platform users who haven't previously enrolled through another platform, a mobile network, or through other promotions are eligible for a free trial. The availability of the free trial also depends on the area or nation you are in.
The duration of the free offer will be between 30 and 90 days, depending on your location. If you wish to use Deezer's free trial, you must submit your payment information. You will be charged to renew your subscription after the free trial has expired.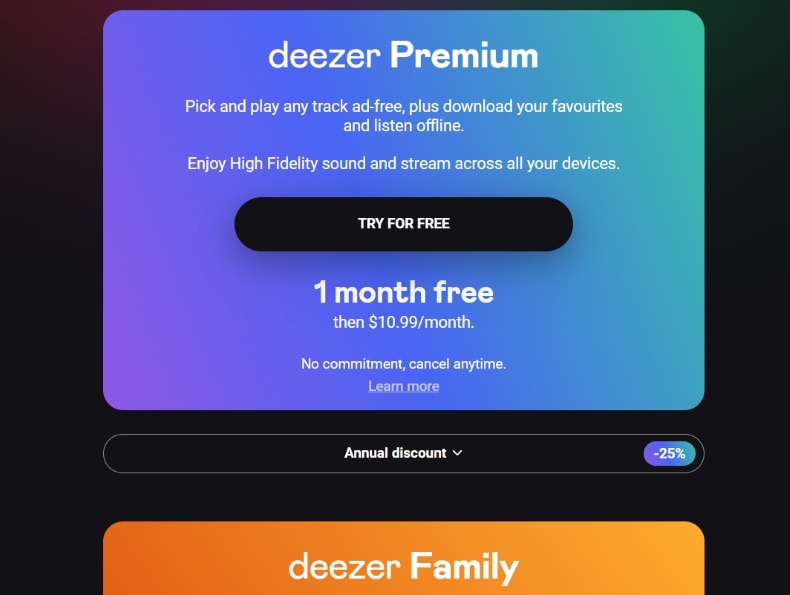 Here are the steps to get the free trial on your Android device:
Visit the Deezer's Offers page using your browser on your Android device.
After that, check out the particular offer that you like and tap on it.
Follow the prompts on the screen to get Deezer Premium's free trial.
Once that is done, download the Deezer application on your Android device.
Log in using the free trial account you created earlier using your Android device's browser.
Part 2. How to Get to Deezer Premium for Free on Android [Recommended Way]
DumpMedia DeezPlus provides a free trial so that you may test the product out before buying it. However, this application is only intended for private usage. You are not permitted to utilize it for profit-making businesses. The DumpMedia DeezPlus app is the suggested method for listening to Deezer offline.
It's an excellent way to download and convert Deezer tracks, including music, podcasts, and other content. There is compatibility between several platforms because the program is accessible on computers running Windows and macOS. The United States of America's copyright laws and regulations are rigorously upheld by DumpMedia DeezPlus.
The tool is really quick and will let you download tunes at breakneck speeds. DumpMedia DeezPlus is almost four times faster than the most common converter available today. The ID3 tags and metadata of the songs you download are also preserved. This means that your collection or library of tracks will still be organized to your liking. You can browse through them through different media player applications making sure they are still organized by artist, genre, year, album, and more.
Songs can be downloaded and converted into various file kinds. MP3, FLAC, WAV, and M4A are a few of these. It can be played on all media players, including smartwatches, vehicle speakers, desktop computers, mobile phones, and more. This is one of the most popular file types of file formats that are supported all throughout the world.
Part 3. Using DumpMedia DeezPlus
Using DumpMedia DeezPlus is easy. Below, we will outline the different steps you can follow to use the tool to grab the tracks you love from Deezer. Check them out below:
The software must first be downloaded from its official website on the Internet. The DeezPlus installer package is actually available for download from DumpMedia's official website.
In order to complete the procedure of the installation process, follow the prompts on the screen. After that, simply run or launch the program of DumpMedia DeezPlus after the installation process is complete.
Drag and drop your favorite tracks into the interface. Put them into the spacing inside the interface of DumpMedia DeezPlus.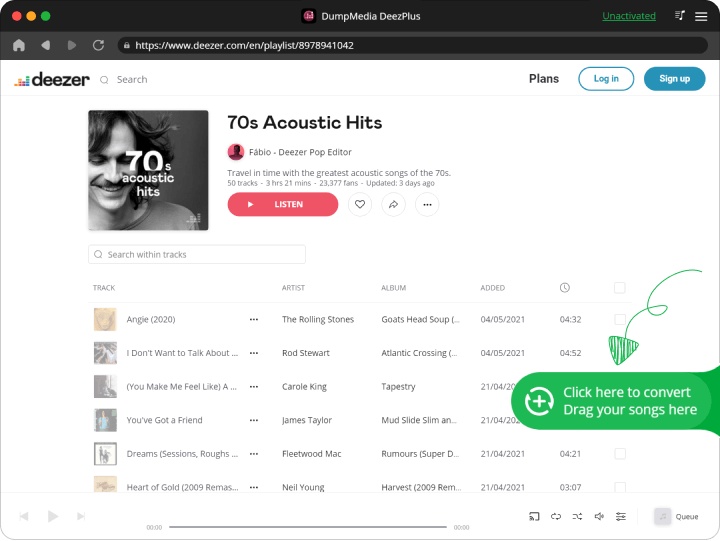 4. After that, select the MP3 format as your output format. Since MP3 is a universal file format, it is one of the best choices you can opt for.
5. The output folder directory must be chosen in the next step. To start the conversion process, click the Convert button.
6. When the conversion procedure is complete, the music will remain in the directory that was initially designated as the destination. Too many various devices, including USB flash drives and mobile phones, you can go there and download music files.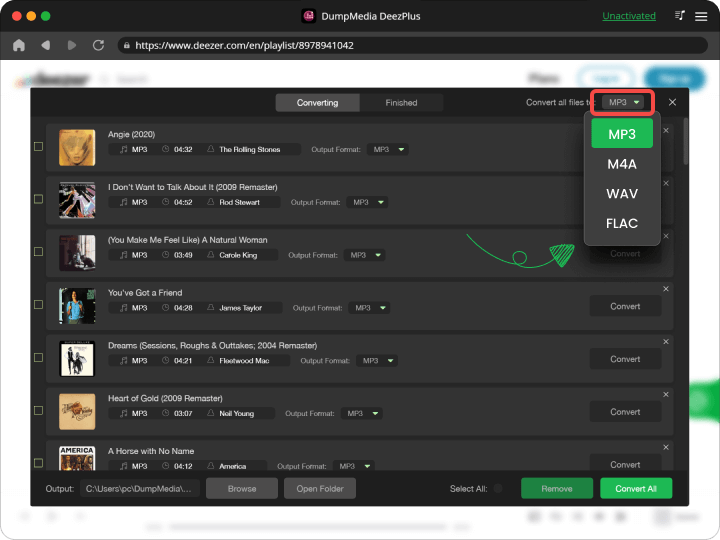 After you have Deezer tracks on your macOS computer or Windows device, you can simply copy and paste these tracks onto your Android device. To do that, you should connect the Android device to the computer using its USB cable. After that, copy and paste the tracks from your computer into the new "Music" folder you will create on your Android device. Once that is done, disconnect the Android device from your computer. You can now use any media player on your phone or tablet to listen to the tracks you have just grabbed from Deezer.
Part 4. To Sum It All Up
DumpMedia DeezPlus is the best way how to get Deezer Premium for free on Android. You can also get a free trial of Deezer, which is the official way of listening to your favorite tracks. But once the free trial has ended, you can preserve your tracks by using DumpMedia DeezPlus. Grab the tool today to make sure you listen to your favorite tracks on the go!