Cricket is a subsidiary of AT&T and is a company involved in wireless prepaid cellular transmission in North America. It's a very popular wireless carrier that competes with T-Mobile, Sprint, and MetroPCS. Most people enjoy the benefits that come with Cricket Wireless. These benefits include Deezer from Cricket and the like.
If you own a smartphone, you know the monthly cost you have to pay to keep the service working. Every penny counts that's why you need a carrier that's worth their service. Many believe that wireless carriers giving out certain perks or discounts keep their customers from moving to another wireless provider. With this, Deezer from Cricket came about and was headlined several years ago. You'll learn about it in the next parts of this article.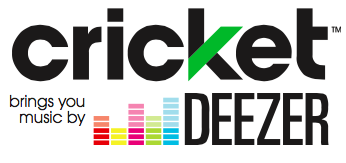 Along with this, you'll learn of a valuable tool that you can use with all your Deezer songs. Stay tuned until the end of this article to find out.
Contents Guide Part 1. What is Deezer From CricketPart 2. How to Connect and Listen to Deezer from CricketPart 3: The Best Way to Enjoy Deezer from CricketPart 4. Conclusion
Part 1. What is Deezer From Cricket
Deezer from Cricket is an offer made by Cricket to its prepaid subscribers where the digital music streaming service Deezer comes packaged along with Cricket's wireless service. It's an offer not to be missed. Imagine premium music along with your prepaid wireless subscription service, how good would that be?
Deezer is gaining momentum in North America. Previously, it was only found in Europe. However, the digital music streaming provider decided to expand worldwide. Deezer is almost like Spotify. You can compare Spotify's subscription plans and how to operate them with Deezer. Similarly, Deezer also has an ad-riddled Free service same to Spotify Free.
Previously, Cricket had Muve Music. Muve Music was also a popular premium music service at that time. However, Cricket had other plans in mind and wanted to explore what Deezer can offer. With this, they sold the Muve Music cellular service to Deezer through their subsidiary AT&T.
Deezer from Cricket starts out as a 15-day free trial. After this, the customer can continue with the streaming service by paying only $6 per month. This is a whopping $4 savings if you compare it with Deezer's Premium service. You pay this on top of your wireless payment service. This service started in January 2015. Unfortunately, it seems to have ended on March 24, 2019.
Part 2. How to Connect and Listen to Deezer from Cricket
Deezer from Cricket is easy to implement. There are guidelines made for this. See the steps below:
First, you have to add a Deezer from Cricket Free trial Plan to your Cricket account. You can do this by going to a retail store or setting this up on your phone in My Account.
After this, a link will be sent to you through text. Click on this link.
You can now set up your Deezer account. First, enter your Cricket phone number. Next, enter the one-time authorization code you got through text.
Enter a username and password.
Download the Deezer app and open it.
Log in to Deezer.
You can now play your favorite songs from Deezer. Enjoy!
You'll get a free 15-day trial of Deezer. If you want to continue listening to it, you'll be charged $6 per month. However, there is more to this. If you sign up to Deezer with 15 or more days left in your billing cycle, then the free trial will continue until your next billing cycle. Consequently, if you sign up with less than 15 days left in your billing cycle, you can continue with the trial up to your current billing cycle and up to the next month. Thereafter, you'll be charged the $6 per month subscription fee.
Six dollars per month is a lot of savings compared to the standard $10 per month Premium Service of Deezer.
Consequently, The Deezer app is super easy to use. If you've used Spotify before you'll have no problems operating Deezer whatsoever.
Part 3: The Best Way to Enjoy Deezer from Cricket
Unfortunately, the Deezer from Cricket offer has already ended. It expired last March 24, 2019. If you still want to enjoy your Deezer songs with minimum or no cost use a Deezer Music Converter for this. The Best Deezer Music converter is DumpMedia DeezPlus Converter.
DumpMedia DeezPlus Converter will convert your Deezer songs into standard music format. With this, you'll be able to enjoy your Deezer songs on any music player you want. This includes your Cricket Wireless phones. It's just like enjoying Deezer Premium only that you'll be transferring your songs from your PC.
The Steps to use DumpMedia DeezPlus Converter is easy. Simply follow the steps below:
Download and install DumpMedia DeezPlus Converter. PC and Mac versions are available.
Open DeezPlus then proceed to the Deezer Web Player.
Choose the song, artist, or album you want to be converted. Drag and drop it to the +Converter icon.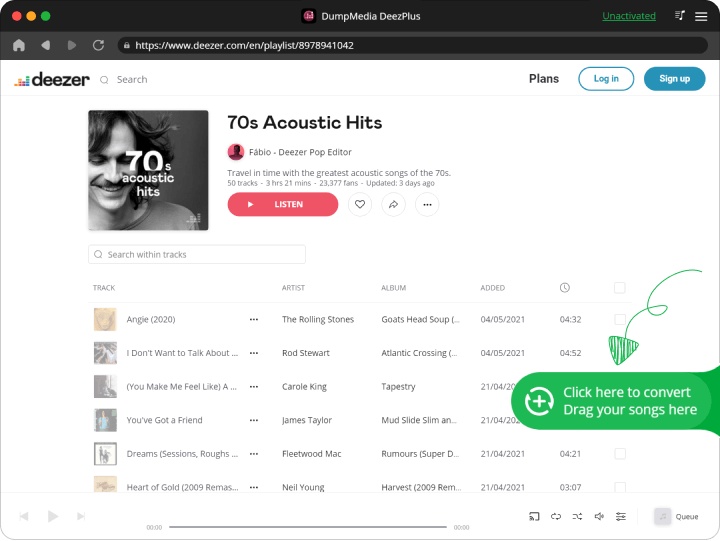 When the Converter window opens, check the songs you want to be converted and choose the music format.
Click Convert to start converting. It's that easy.
After finishing, go to the Finished tab to view your output files.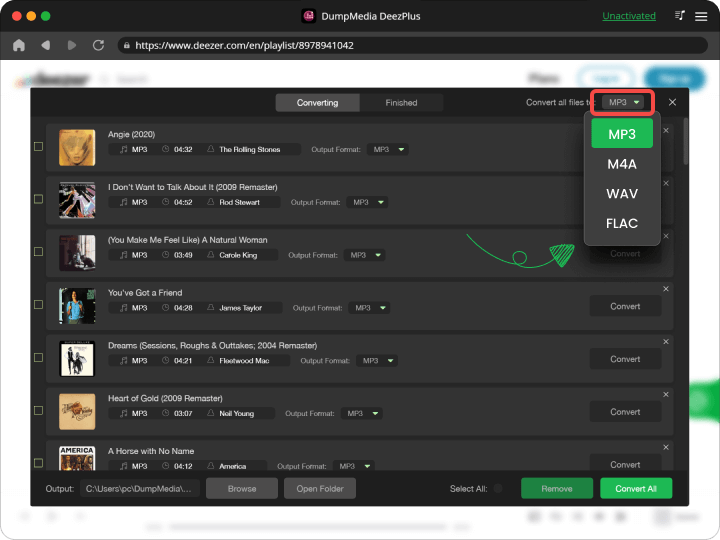 The DumpMedia DeezPlus converter is professionally made. If you want to unlock its full feature, purchase a license key. All license key purchases are backed up by a 30-day money-back guarantee. Additionally, all DumpMedia customers get the guaranteed 24-hour reply email customer support that they need.
Part 4. Conclusion
You've just learned how to get Deezer from Cricket. You've also learned about Cricket Wireless and the Deezer Music streaming service. Deezer from Cricket has a free trial period of 15 days. After that, you only pay $6 per month for their Premium service.
Unfortunately, Deezer from Cricket has already ended. To continue using Deezer Premium at no additional cost, get a Deezer Music Converter. The best Deezer Music Converter is the DumpMedia DeezPlus Converter.