"Between Deezer HiFi vs. Tidal, which is actually better?"
There are definitely bunches of music streaming platforms that were introduced to the public. Perhaps, you would know that Spotify and Apple Music are among the "crowd's favorites". Well, apart from these two, you should also be aware that there are still other amazing apps – Deezer HiFi and Tidal are good examples. If your eyes are currently fixated on Deezer HiFi vs. Tidal, this post will surely be beneficial to you.
Actually, in a glimpse, many would say that Deezer HiFi and Tidal have lots of similarities. So, doing a "Deezer HiFi vs. Tidal" comparison could be a bit daunting. Of course, there are always differences present between the two.
If you are one of those who are interested in this "Deezer HiFi vs. Tidal " comparison, then make sure to read what this post has as we are to give you significant details relating to these platforms. Let us start first with an overview in the first part.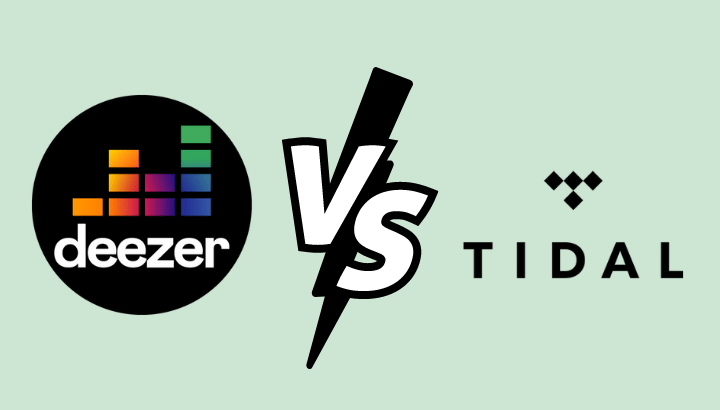 Contents Guide Part 1: Deezer HiFi Vs. Tidal OverviewPart 2: Deezer HiFi vs Tidal ComparisonPart 3: The Best Way to Enjoy Deezer HiFiPart 4: Summary
Part 1: Deezer HiFi Vs. Tidal Overview
This post was created to present the readers with a "Deezer HiFi vs. Tidal " comparison and finally help them decide which of the two is actually the better platform to use. But before we head into each factor that we'll discuss here, we will first give you an overview of the topic in this section of the article.
Deezer HiFi Overview
Deezer is a French music streaming service provider. This has been known as one of the platforms with easy-to-navigate options. It also has several contents and huge collections of tracks as well as podcasts giving its users various options to choose from when streaming. This also has an app and a web player. The same with other music streaming platforms, Deezer is also offering several subscription tiers wherein users can select from.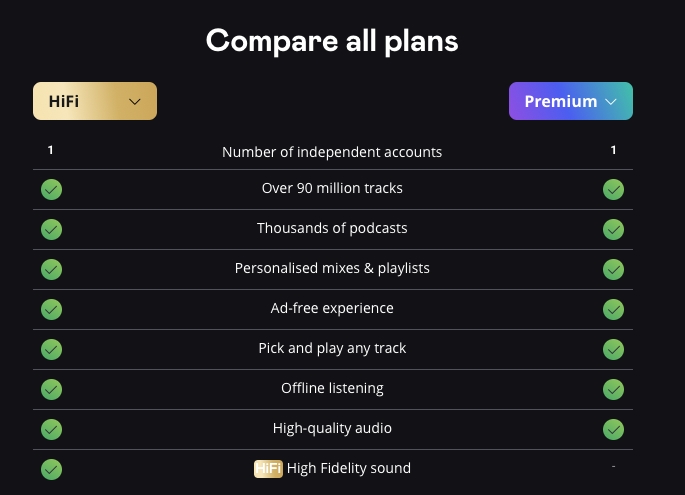 Tidal Overview
Since we have presented brief information about Deezer in the previous paragraph, we should also have one for Tidal.
Tidal is also a subscription-based platform. It is famous because it offers high-quality music streaming (CD quality and MQA quality). Another good thing about Tidal is that it is now offering a free plan to its users letting them browse or listen to the platform's collection without paying any fee (with limitations). It also has other content as such videos and podcasts.
We know that mentioning the above information isn't sufficient. The full and detailed "Deezer HiFi vs. Tidal" comparison is presented in the 2nd part.
Part 2: Deezer HiFi vs Tidal Comparison
Deezer HiFi and Tidal are two different platforms each with unique offers and features. Being torn in choosing between the two is totally understandable given that they are both great in the industry. Don't worry, hopefully, after reading the "Deezer HiFi vs. Tidal " comparison that we have made here, you shall be able to decide to which platform you'll subscribe.
Prices
Of course, when doing the "Deezer HiFi vs. Tidal" comparison, one of the most important things to look into should be the prices of their subscription plans.
In the case of Deezer, currently, there are four paid subscription tiers and a free plan option for its users. This platform has a plan for students that is priced at 4.99 USD per month, a Premium plan for individual users that costs 9.99 USD, and a Family plan that can be used by up to 6 members (14.99 USD per month). Deezer HiFi's subscription is priced at 19.99 USD per month. In case you wish to pay the subscription fee annually, that is possible as well and you can get a 25% discount for doing so.
Tidal, on the other hand, also has the same options for subscribers. It is offering a 50% discount to eligible students, an individual plan (Tidal HiFi) that costs 9.99 USD per month, a Tidal Family plan at 14.99 USD per month, and a Tidal HiFi Plus Plan that is at 14.99 USD per month as well. It's just that there are other discount options available for Tidal users. In case you are working for the military or if you are a first-aid responder, you can get a 40% discount
Library (Amount and Variety of Track)
Another important factor to look into when deciding between Deezer HiFi vs. Tidal is the music library or content that each platform has.
Both of them are actually offering wide collections of tracks. Based on research, Tidal has 80 million songs and music videos which is 350,000 in number. Compared with Tidal, Deezer, on the other hand, has more as its collection is at 90 million which already includes tracks, podcasts, and playlists.
With the above numbers given, it can be said that Deezer has an edge over Tidal.
Sound Quality
Music streaming would definitely be great if the audio output quality is amazing. In this case, taking a look at the sound quality that is being offered by each platform also matters.
Since both of these platforms, Deezer HiFi and Tidal, are offering a free plan, we also have here the comparison between the two. Actually, the audio quality for both is almost the same – 128 kbps for Deezer (in MP3 format) and 160 kbps for Tidal (in AAC format). If you are looking at music quality as a serious factor to consider as a free user, then choosing Tidal will be the better thing to do.
For paid subscription plans, you may refer to the below comparison.
Tidal HiFi's audio quality is at 1,411 kbps (FLAC format) whereas Tidal Premium is at 320 kbps (MP3).
Tidal HiFi Plus' audio quality is at 44.1 kHz (FLAC) and 96 kHz (MQA). Deezer HiFi is at 1,411 kbps (FLAC).
Music Discovery
Another great factor to look into when doing a "Deezer HiFi vs. Tidal" comparison is "Music Discovery".
Tidal has this "What's New" section that contains content that's curated by experts – tracks, albums, playlists, podcasts, videos, and more, grouped into their corresponding categories. There are also suggested songs based on your music streaming history.
Deezer, on the other hand, has a "search" option that users can utilize to look for specific content they wish to explore or discover. There are also daily recommendations from the app that the users can check prior to streaming.
User Experience
When it comes to the interface and usability, Deezer HiFi and Tidal actually have nothing in common except for the fact that they both are user-friendly and have simple navigation functions.
Apart from the factors mentioned in this part, there are still lots of things you could look into before deciding to subscribe to either Deezer HiFi or Tidal. As always, the decision will always be yours.
In case you have decided to subscribe to Deezer HiFi, we have bonus details in the next part. So, if you are interested, hop on and read.
Part 3: The Best Way to Enjoy Deezer HiFi
If upon doing further review, you considered subscribing to Deezer HiFi, you should read what this section has then!
In fact, streaming tracks under Deezer can be a lot more satisfying if you will be able to keep and stream the tracks on any device that you wish to use. Of course, that will be possible with the help of great apps such as this DumpMedia DeezPlus. With the app's ability to help both in the conversion and downloading procedures, you could never go wrong.
This app works pretty fast, has several output formats supported, has advanced features to offer, and ensures that no data and quality loss will happen throughout the process!
Of course, everyone will surely be able to use the app well given that its navigation functions are also simple to handle. Here's a guide to using the DumpMedia DeezPlus when converting Deezer songs.
Step #1. Once the app has been installed, just drag and drop the songs onto the main page.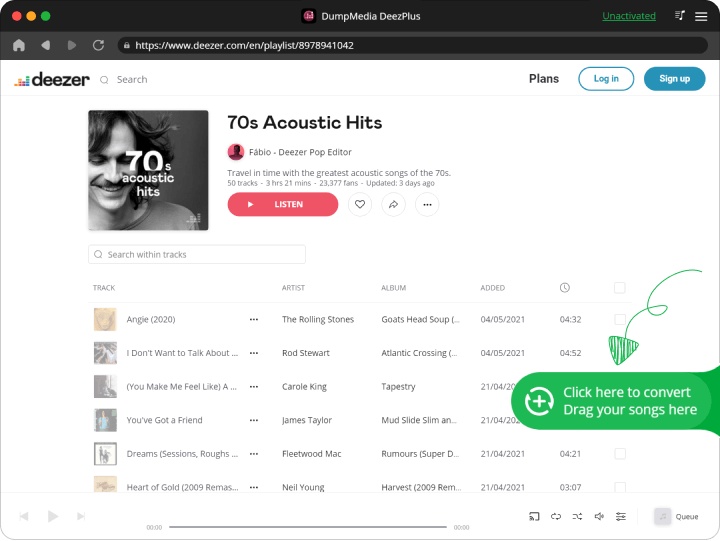 Step #2. Do the selection of the output format to use and ensure that the output folder has been specified as well.
Step #3. Tick off the "Convert" button at the bottom of the page once you are all good with the setup. The conversion process shall happen right away.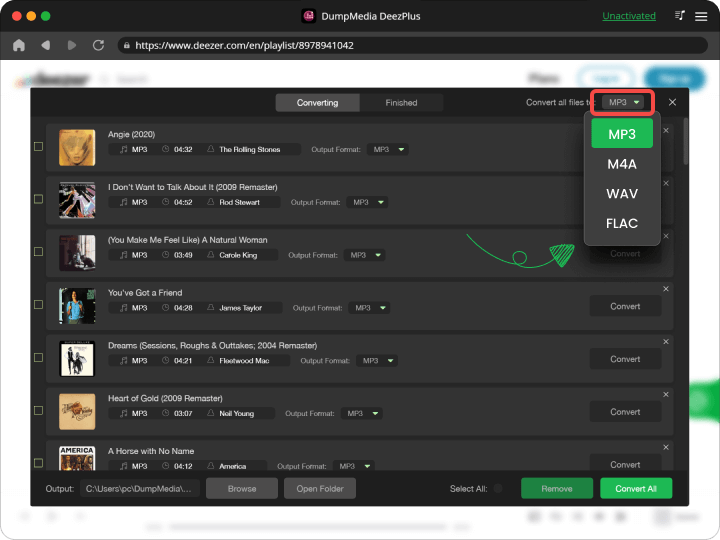 In a few minutes, the converted Deezer songs should be available in the output folder defined in Step 2.
Part 4: Summary
With the "Deezer HiFi or Tidal " comparison made in this post, which music streaming platform will you consider? Always remember to be keen enough when reading and comparing these two. Apart from the items discussed here, there are still other factors that you could also look into before deciding. Just in case you love what Deezer is offering, always keep in mind that for the best streaming experience, you can always rely on DumpMedia DeezPlus.